EMERGENCY CONTACT REGISTRY

Over 400 million now see NOKR as the solution

It's Fast, Free and Secure


"Is NOKR in Your Wallet?"




Who will speak for you or your family in your hour of need?




We have been honored to be your go to resource since 2004.


The Next Of Kin Registry (NOKR) was established as a FREE tool for daily emergencies and national disasters. NOKR is your emergency contact system to help if you or your family member is missing, injured or deceased. NOKR is the central depository for Emergency Contact information in the United States. NOKR is a non-profit humanitarian organization dedicated to bridging rapid emergency contact information. NOKR was established in January 2004, for daily emergency situations.


NOKR provides the public a free proactive service to store your emergency contacts that would be critical to emergency response agencies. Stored information is only accessible via a secure area that is only accessible by emergency public trust agencies that have registered with NOKR.

NOKR encourages every township, county, municipality, city, state and nation to take ownership of the NOKR. This resource belongs to you, your citizens and to your emergency agencies. Take the NOKR registration forms and add your own identifying

symbols

.



NOKR is your trusted safe guarding organization for all personal emergency contacts worldwide.

NOKR does not own the registrants information we store, this information belongs to the registrants and is made available securely to registered emergency agencies during times of urgent need. NOKR is the protector of this vital bridging resource to reconnect individuals and families after urgent events.

FREE DECALS
Get your FREE Driver License or Identification Card decals.
Click Here!

The injury or passing of a loved one is a difficult time for families and friends. This sad time is compounded when
you're not informed when a loved one is injured or passes on. This happens when Local and State Agencies
are unable to locate a family member or Next of Kin.

Why should I register myself or my family with NOKR?

Here are just a few scenarios where your information will be useful

○ Lack of information about family or contacts.
○ Lack of resources available to search for family members, emergency contacts or "Next Of Kin".
○ Missing or injured child, adult or senior.
○ Lost child.
○ Those suffering from Dementia or Alzheimer's.
○ Accidents while traveling Nationally or Internationally.
○ Unconscious person unable to communicate.
○ Natural Disasters (Hurricanes, Earthquakes, Tornados, Floods, Tsunamis, Fires).
○ Terrorist Acts Nationally or Internationally.
○ Deceased person used to locate a next of kin or point of contact.

---

NOKR is the ONLY organization globally, that provides a free emergency contact resource of this kind, to both citizens and to emergency agencies. We hope there is never a need but we do know that events in life and disasters will happen. It's entirely your choice to decide how you will prepare yourself and your family.

FACT: Many people think that if they are carrying a driver's license, identification card or credit cards, authorities will know who their emergency contact is. These forms of identity only indicate who you are not who should be contacted in the event of urgent need. To add to this problem, often times your current identification is not updated or readily available and it becomes very difficult and complex to locate emergency contacts.

Who will speak for you or your family member when they can

'

t? NOKR is the solution

---

NOKR is currently used Nationally and Internationally. NOKR can be found on many, city, state and country websites throughout the world.

To request an emergency search contact your local Law Enforcement Agency.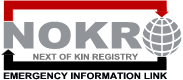 Your NOKR is powered by
volunteers and 100% wind energy
International Emergency Family Locator System
Next Of Kin Registry (NOKR) International Emergency Contact System
All Rights Reserved 2003-Present NOKR Inc. a Nonprofit 501(c)(3) Public Benefit Humanitarian Organization